Luxury Travel's philosophy is not only to ensure that our travelers are amazed by their trips and the countries they visit, but also to help people in need. Our company pays a lot of attention to the quality of its services and the authenticity of its products, but we cannot do this without the support of the locals. We consider it important to ensure that, for both travelers and locals, tourism should be a win/win situation so that everybody benefits.
Our new initiative this winter is to support the NGO "Art for Community" through which artists are invited to stay in Sapa (northern Vietnam). In exchange for free accommodation and food, they give their time and work to raise funds to support the community in Sapa. "Art for Community" supports the belief that the arts are an integral part of a healthy culture, and that community-based arts provide significant value both to communities and artists.
Last summer the NGO invited the artist Bridget March to create a pocket folding guide about Sapa and its surroundings. It is illustrated with her beautiful paintings and packed full of useful information of interest to all travelers, such as a list of local foods to try, local textiles and fabrics, the festivals, travel tips, introduction to the ethnic minorities, a short history of Sapa etc, and of course a map of this gorgeous area.
Luxury Travel has purchased a supply of these Sapa guides in order to support this NGO which will use all of the profits from this initiative to provide jackets to H'Mong children and students to keep them warm during the harsh winter.
We will give the guides to all visitors visiting Sapa as it is a perfect introduction to this region and supports this very worthwhile charity.
Please click here ( http://www.luxurytravel.vn/index.php/destination/tours)  if you want to discover more about the products we offer in this region of the north of Vietnam.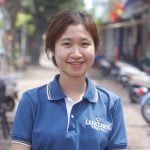 Bonjour, je m'appelle Cuong Bach. Je suis un expert dans tout ce qui concerne l'Asie du Sud-Est et le Vietnam! Étant née et ayant grandi au nord du Vietnam, je connais très profondément mon pays bien-aimé et je suis toujours prête à transformer mes connaissances en voyages sur mesure. Planifier un voyage sur mesure avec vos intérêts et votre budget est un privilège, un honneur et je suis heureuse de faire du Vietnam une destination de voyage idéale pour vous. Venez découvrir cette belle perle du sud-est avec nous! Vous pouvez me laisser une question en remplissant ce formulaire. Je vous contacterai dès que possible.